Last semester in college, I studied Previz and Comp, and I very much enjoyed it! I don't know quite why I waited so long to share this - I'm delighted with how it turned out! Set extension is an interesting project to undertake; much more common than I ever imagined in the film and TV shows you see every day, and an incredibly satisfying result when it works well. One of my favourite things about this project in particular was being able to combine so much of my own personality and my own adventures into one little scene! I used photographs I had taken from a few of holidays and day trips I've been on, went on a few new shoots, and I even included myself in the scene - all wrapped up in a fantasy, Alice in Wonderland (my namesake, which I absolutely take after!) theme. Can anyone recognize any of the places that feature here?
Above, you can see stage one of the process for the project. I began with a rough matte painting, including all the elements that I wanted to use in my final design. Then, I edited that file, being very careful with my layers in Photoshop, until I was happy to sign off on my matte painting. Then, I moved into Maya and started constructed some rough 3D geometry. Once I was happy with how that looked; I started to project the layers of my matte painting onto my 3D geometry. I did a few test renders to spot any errors that might cause problems, and then rendered the final version of the background (without the character). While I was doing all that, I was also preparing the greenscreen element. This included recording myself in the studio in college (Thanks for the help @RichToTheArdYo, @JohnArmstrong94, and @SamIsWoong), importing that file into AfterEffects, tweaking the screen matte and adjusting the final keylight. I then combined all those elements together in AfterEffects, added a few adjustments, and finished off the project with an audio track. That render left me with this:
Which, you can see, is not the final result! A wonderful thing about this project (which is SO rare, but shouldn't be!) was that when this assignment was handed in, my next assignment was to implement the feedback I was given. I am immensely grateful that I was given that opportunity, because it meant I was able to push myself that little bit further and produce a piece I can be truly proud of, and I absolutely believe that this kind of feedback-based assignment should be used more. That's the way it is in the industry, so that's the way it should be in college. So worthwhile, and so beneficial. Here's the processes I went through to push this project up a level at this stage.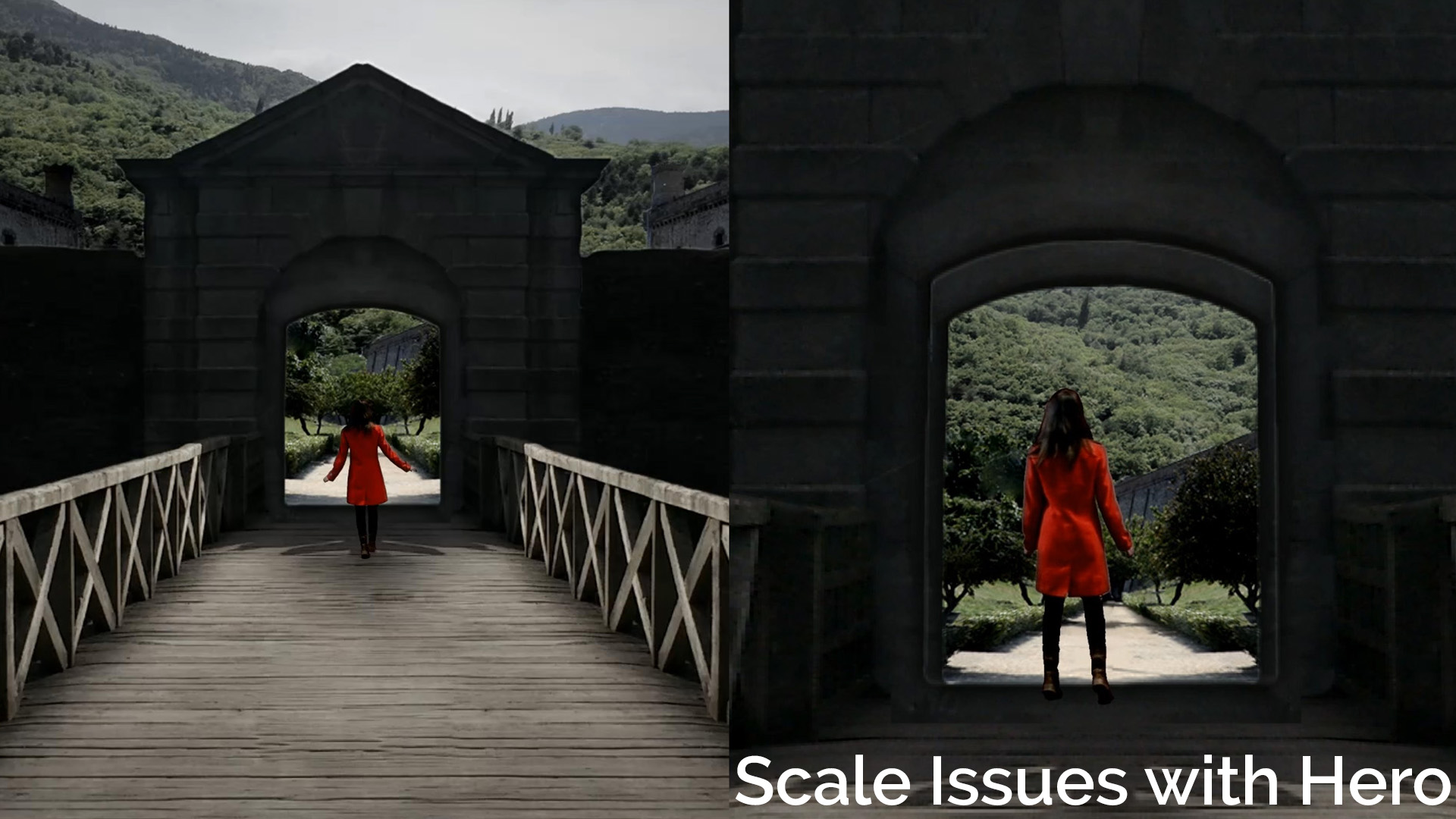 The main details that I corrected at this stage of my project were: fixing resolution problems on the bridge, brightening and adding more details to the wall and arch, added some damage to the bridge, fixed scaling issues with the character, corrected floating issue with the character, and overall correction of edges, colour, and more. All those fixes and edits amounted to this:
Finally, to finish this project off, I was asked to create a breakdown of it. That meant exporting every 2.5D element as an individual layer in After Effects, adding my adjustments in layers, and using a few simple swipes to reveal the steps involved in the process.
Overall, I'm delighted with how this project turned out! I think I managed to achieve the fantasy adventure scene that I was hoping for, I was able to learn a lot and push my skills, and explore my creativity in new ways for sure. Hope you liked it too!
PS: if you follow me on Instagram, you might have seen that this time last week, I was chasing giant white rabbits! It seems I'm in a very Alice in Wonderland kick right now... I might make that more intentional sometime soon! :)